Exit stage left: my 100 best concerts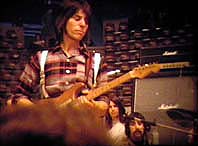 I first started to go to concerts in 1967. I was 15 years old. It was an indoor pop festival in Rotterdam, with The Small Faces, Spencer Davis Group, Dave Dee, Dozy, Beaky, Mick and Tich, Sandie Shaw, and a whole army of Dutch groups. Frankly, I have very vague memories of this festival, which took place on 3 June. My brother says I went, but I can't remember seeing any of those acts.
The second concert I went to was The Jimi Hendrix Experience, which took place on 10 November, again in Rotterdam. This made enough impact on me to remember it today for sure. But then again I have the photos of the show to keep the image alive.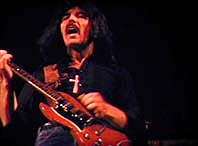 My father was a musican and composer, so music was always important in our family. Whenever there was a concert in Rotterdam or Amsterdam with a group or musician from the USA or England, I went with my older brother Jaap or my younger brother Martin.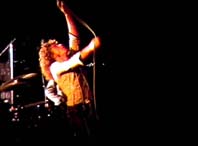 Jaap had started to film concerts with his 8 mm camera in 1969. When he upgraded to a better camera, I got his first one. My first filmed concert was Chicago Transit Authority at the Amsterdam Concertgebouw on 12 December 1969. Many filmed concerts would follow. Security was non-existent, and Jaap and I usually sat pressed against the stage, filming the acts from up close. This would not be possible nowadays.
As a result of our eagerness to go to concerts, we saw most of the legendary 60's and 70's groups. I missed seeing The Beatles (quite impossible, as they stopped performing live in 1966), Cream (I never saw Ginger Baker – drat! – but saw Jack Bruce twice), or The Rolling Stones (Jaap did see them in Amsterdam 1970).
I do not know exactly how much groups I have seen in total, it's very possible I forgot about some of them. I have made a list of the 100+ most important ones, which you will find below. I have many reviews, photos and filmed material of many of them, which I hope to post one day here.
Ben Valkhoff, June 2017.
Stills on this page from my 8 mm movies: Jeff Beck in 1971, Black Sabbath in 1971, and The Who in 1970.
------------------------------------------------------------------------------
After Tea
Al Stewart
Alice Cooper
Alice Cooper
Alquin
Art Blakey
Beck, Bogert & Appice
Billy Cobham
Black Sabbath
Bonzo Dog Doo Dah Band
Bryan Ferry
Buddy Miles/Noel Redding
Byrds, The
Canned Heat
Chicago Transit Authority
Chicken Shack
Chris Hinze Combination
Colosseum
Country Joe
David Bowie
Deep Purple
Diana Ross
Dr. John The Night Tripper
Electric Light Orchestra
Elton John
Emerson, Lake & Palmer
Everley Brothers
Fairport Convention
Fairport Convention
Family
Family
Fat Mattress
Fat Mattress
Fleetwood Mac
Flock, The
Flock, The
Focus
Frank Zappa
Frank Zappa
Free
George Duke + Sheila E.
Grand Funk Railroad
Help Yourself
Hot Tuna
Humble Pie
Ian Dury and The Blockheads
Iron Butterfly
It's A Beautiful Day
Jack Bruce Band
Janet Jackson
Jeff Beck Group
Jefferson Airplane
Jethro Tull
Jimi Hendrix Experience
Jimi Hendrix Experience
Joe Jackson
Joe Satriani & Steve Vai
Johnny Winter
Julien Clerc
Kenny Clarke–Francy Boland
Led Zeppelin
Living Blues
London Beat
Lou Reed
More Experience
Motions, The
Mungo Jerry
Nash The Slash
Osibisa
Pentangle
Pink Floyd
Pointer Sisters
Police, The
Quintessence
Randy California/Noel Redding
Ravi Shankar
Robert Palmer
Rod Stewart & The Faces
Roger Chapman's Shortlist
Santana
Santana
Santana
Seatrain
Shoes, The
Skunk Anansie
Small Faces, The
Soft Machine
Soft Machine
Solution
Solution
Spencer Davis Group
Steve Miller Band
Stone The Crows
Super Sister
T. Rex
Taste
Ten Years After
Third Ear Band
Traffic
Tubes, The
Tyrannosaurus Rex
Van Der Graaf Generator
Van Halen
Weather Report
West, Bruce & Laing
Whitesnake
Who, The
Wild Turkey
Yes
De Doelen
Kralingse Bos
Concertgebouw
Ahoy
Kunstacademie
De Doelen
Concertgebouw
Paradiso
De Doelen
Jaarbeurs
Ahoy
Nighttown
Kralingse Bos
Kralingse Bos
Concertgebouw
De Doelen
Houtrustgebouw
Ahoy
Kralingse Bos
Ahoy
De Doelen
Ahoy
Kralingse Bos
De Doelen
Ahoy
Concertgebouw
Ahoy
Kralingse Bos
Ahoy
Kralingse Bos
De Doelen
Royal Albert Hall
De Doelen
De Doelen
Concertgebouw
Kralingse Bos
Marquee
De Doelen
Ahoy
De Doelen
De Doelen
De Doelen
Ahoy
Kralingse Bos
De Doelen
De Doelen
De Doelen
Kralingse Bos
Parkzicht
Ahoy
Ahoy
Kralingse Bos
De Doelen
Ahoy
Royal Albert Hall
Ahoy
Ahoy
Concertgebouw
De Doelen
De Doelen
De Doelen
Palace
Ahoy
Concertgebouw
Olympia
Ahoy
Kralingse Bos
De Doelen
Ahoy
Kralingse Bos
Kralingse Bos
De Doelen
Ahoy
Kralingse Bos
Olympia
De Doelen
Congresgebouw
De Doelen
Zuiderpark
Kralingse Bos
Ahoy
Ahoy
Ahoy
Unknown theatre
Ahoy
Energiehal
Kralingse Bos
Ahoy
Ahoy
Houtrustgebouw
Energiehal
De Doelen
Kralingse Bos
De Doelen
De Doelen
De Doelen
De Doelen
Kralingse Bos
De Doelen
De Doelen
Kralingse Bos
Royal Albert Hall
Ahoy
Congresgebouw
De Doelen
013 Poppodium Tilburg
De Doelen
De Doelen
De Doelen
04-10-1969
27-06-1970
29-10-1971
13-10-1991
00-06-1972
01-03-1974
01-10-1972
10-07-1974
06-02-1971
29-12-1968
23-11-1988
22-09-1991
27-06-1970
26-06-1970
12-12-1969
25-10-1969
16-06-1973
10-09-1971
27-06-1970
14-05-1976
01-01-1971
29-06-1982
27-06-1970
11-05-1973
08-05-1982
12-06-1971
11-09-1971
28-06-1970
11-09-1971
27-06-1970
12-02-1971
24-02-1969
15-11-1969
15-03-1970
26-04-1970
26-06-1970
11-08-1972
10-12-1970
27-11-1971
19-07-1970
28-01-1979
25-06-1971
10-09-1971
26-06-1970
25-06-1971
13-06-1979
10-01-1971
28-06-1970
02-06-1984
05-10-1990
11-09-1971
26-06-1970
11-02-1972
10-11-1967
24-02-1969
14-04-1984
23-05-1997
26-04-1970
02-03-1980
01-11-1970
04-10-1969
18-03-1971
23-11-1988
01-10-1972
15-09-1990
10-11-1967
28-06-1970
23-05-1981
10/11-9-71
26-06-1970
28-06-1970
06-02-1980
04-10-1983
26-06-1970
15-09-1990
17-01-1971
03-10-1988
25-02-1972
09-09-1979
26-06-1970
18-04-1971
08-12-1973
11-09-1971
01-01-1967
26-10-1999
03-06-1967
28-06-1970
10-09-1971
10-09-1971
16-06-1973
03-06-1967
06-04-1973
26-06-1970
31-03-1973
08-10-1971
15-11-1969
25-10-1969
27-06-1970
19-07-1970
23-05-1981
27-06-1970
24-02-1969
13-04-1993
16-09-1977
31-03-1973
18-06-2013
16-09-1970
27-01-1973
10-01-1971
Rotterdam
Rotterdam
Amsterdam
Rotterdam
Rotterdam
Rotterdam
Amsterdam
Amsterdam
Rotterdam
Utrecht
Rotterdam
Rotterdam
Rotterdam
Rotterdam
Amsterdam
Rotterdam
Den Haag
Rotterdam
Rotterdam
Rotterdam
Rotterdam
Rotterdam
Rotterdam
Rotterdam
Rotterdam
Amsterdam
Rotterdam
Rotterdam
Rotterdam
Rotterdam
Rotterdam
London
Rotterdam
Rotterdam
Amsterdam
Rotterdam
London
Rotterdam
Rotterdam
Rotterdam
Rotterdam
Rotterdam
Rotterdam
Rotterdam
Rotterdam
Rotterdam
Rotterdam
Rotterdam
Rotterdam
Rotterdam
Rotterdam
Rotterdam
Rotterdam
Rotterdam
London
Rotterdam
Rotterdam
Amsterdam
Rotterdam
Rotterdam
Rotterdam
Rotterdam
Rotterdam
Amsterdam
Paris
Rotterdam
Rotterdam
Rotterdam
Rotterdam
Rotterdam
Rotterdam
Rotterdam
Rotterdam
Rotterdam
Paris
Rotterdam
The Hague
Rotterdam
Rotterdam
Rotterdam
Rotterdam
Rotterdam
Rotterdam
Enschede
Rotterdam
Rotterdam
Rotterdam
Rotterdam
Rotterdam
Den Haag
Rotterdam
Rotterdam
Rotterdam
Rotterdam
Rotterdam
Rotterdam
Rotterdam
Rotterdam
Rotterdam
Rotterdam
Rotterdam
London
Rotterdam
The Hague
Rotterdam
Tilburg
Rotterdam
Rotterdam
Rotterdam