My funny valentine
18/02/19
Recently I received requests to shed some light on the date of the launching party for Mary Hopkin's debut album
Postcard
, held at the London Post Office Tower in February 1969. In my book
One Last Experience
I claim that the Hopkin party was held on 14 February 1969, and not on 13 February, as all other sources claim.
After careful research by Luigi and myself, we came to the conclusion that it was definitely held on 14 February. I have no idea why all other media have it as 13 February. I suppose someone published that date long ago, and – as with most incorrect information – all the later other publications copied that (incorrect) date, which is why it is now the general accepted date for the event. However, there doesn't seem to be any proof of this assumption: no printed invitation has surfaced, no mention of the exact date in the press of that month.
There are several indications that the Hopkin event took place on the same day as the
Disc & Music Echo
Valentine's Award event, which was held at the Seymour Hall in London. We know for sure that the
Disc
event took place on 14 February, because the
Disc
issue of 22 February wrote:
"...but the highlight of Disc's night with the stars – Valentine's Night Poll Awards Ball last Friday
[14 February]
..."
Jimi Hendrix and Kathy Etchingham were present at both events. First the couple went to the Hopkin launch, and after that they went to the
Disc
event, which was only a mile down the road.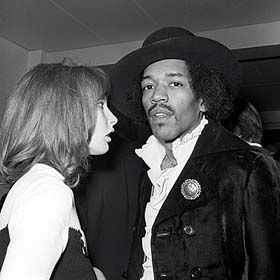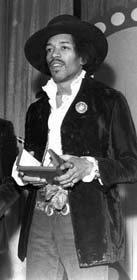 If we look at the photos of Jimi taken at those two parties (left the Hopkin party, right the
Disc
party), we see he's wearing the exact same outfit. Although anything is possible, but Jimi was not the kind of person to wear the same outfit for two consecutive days.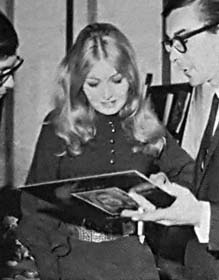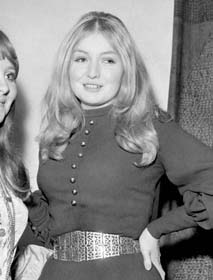 The same goes for Mary Hopkin (left the Hopkin party, right the
Disc
party): she wears the same dress at both events. Very uncommon for any female singer to wear the same outfit for two consecutive days.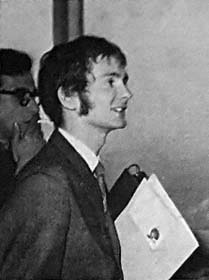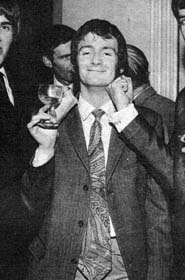 Another person who was at both events was radio DJ Kenny Everett (left the Hopkin party, right the
Disc
party); he can also be seen wearing the same outfit.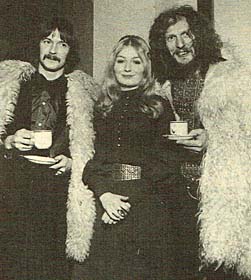 According to
this website
both Eric Clapton and Ginger Baker were at the Hopkin party, as well as the
Disc
party. (Personally I think Clapton and Baker were only at the
Disc
party – see photo above – and Hopkin is confusing the parties).
A learned friend wrote me in 2017:
"Well done for being so sure! I checked with Mark Lewisohn
[leading authority on The Beatles]
, who told me the Hopkin launch was on the 13th… but when I forwarded your email to him, he had a proper look and it turns out it WAS the 14th."
So that, my children, is how it's done.
(With thanks to Paul de Bie).