Jimi jams with Tommy Bolin!
22/01/17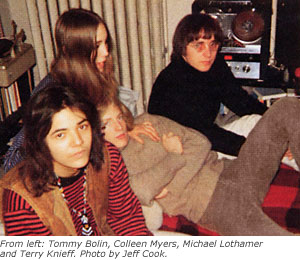 American Standard [see photo] was formed in Denver, Colorado during the winter of 1967. When, in 1967, local promoter Barry Fey opened his Family Dog venue at 1601 West Evans Avenue in Denver with the help of San Francisco rock impresario Chet Helms. Fey recalls selling out the Fieldhouse's 4,700 tickets and that Hendrix was
"incredible."
Afterwards, according to Fey's long-time assistant Leslie Gorham Haseman, Jimi moved on to the Family Dog venue to jam.
'It was kind of a private party, but anyone who wanted to play got up and played with him, including Tommy Bolin,"
she remembers. More
here
.